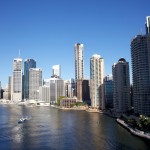 Brisbane is Australia's third world city and has underperformed in property growth terms compared to Sydney and Melbourne in recent years. It is now widely predicted to lead the nation for capital city growth in coming years. Past property cycles have shown Brisbane often follows the southern capitals when buyers realise they can purchase a house at a fraction of the cost and retain a great lifestyle.
The city is currently going through an unprecedented infrastructure spending program that is the most expensive in Australia's history. This will create thousands of jobs and place Brisbane amongst the worlds most livable cities.
South East Queensland encompasses The Gold Coast, Brisbane and The Sunshine Coast.  In 35 years this region will have a population of more than six million people, more than the current Sydney region and the entire population of Victoria.  Other than Hobart and Adelaide, Brisbane is the most affordable capital city in Australia, and by a wide margin from Sydney and Melbourne.
Now is an ideal opportunity to invest in this dynamic region.